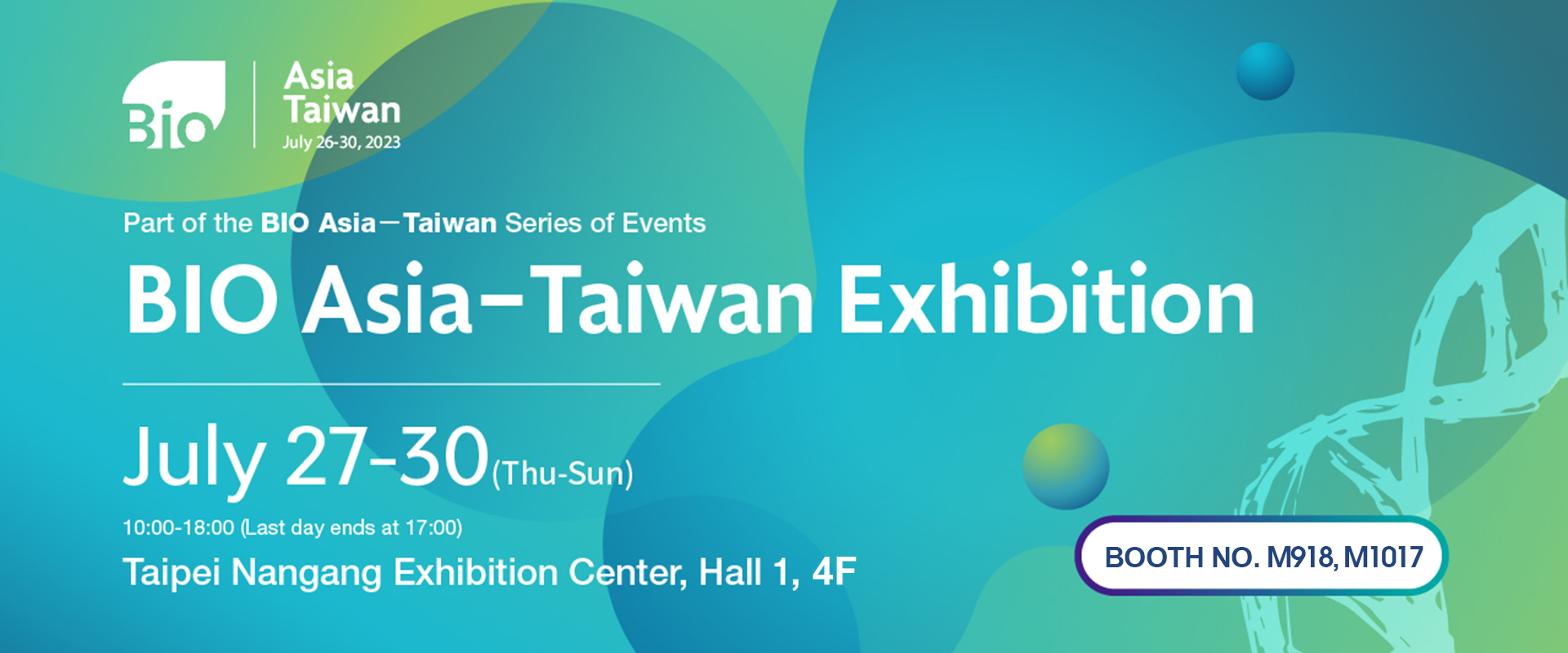 BIO Asia-Taiwan Exhibition 2023
BIO Asia–Taiwan 2023 Onsite + Online will be held July 26-30, in Taipei, Taiwan. The event aims to build on the success of recent years' gatherings to bring together biotechnology and pharmaceutical executives and investors from North America, Europe and Asia, and explore business opportunities and to engage with Taiwan's emerging biotech sector.

This year's theme, Embracing Asian Dynamics, showcases the incredible opportunities that exist within Asian's fast moving economies, its dynamic and innovation-generating biomedical ecosystems, and its globally-connected bio-industry production and value chains. Featuring the latest advances from the therapeutic, diagnostic, medical equipment, and service sectors, BIO Asia–Taiwan 2023 Onsite + Online is notably hosted in Taiwan, recognized worldwide not only for its efforts in successfully fighting the spread of COVID-19, but also in cultivating a high level of innovation and production, leading to increasing engagement with the international biomedical community.

Our most important goal as a company is to achieve complete customer satisfaction by supplying the best quality products. Shang-Yuh Machine Co., Ltd has 40 year's experience to produce pharmaceutical production machines for more than 100 cGMP (Current Good Manufacturing Practices) pharmaceuticals and biotechnology manufacturers. such as automated Cleaning-in-place (CIP) and Sterilizing-in-place systems (SIP). Also Shang-Yuh has ability to achieve DQ (Designing qualification), IQ (Installation Qualification), OQ (Operation Qualification) and ASME BPE, PIC/S requirements for any pharmaceuticals and biotechnology machinery. Shang-Yuh Co., LTD. is to provide the best services to all our clients, and to help Nano-biotechnologies, Chinese medicines, Health foods, and GMP cosmetics manufacturers to improve their product quality.
Date
2023/7/27(Thu.) - 7/30(Sun.)
10:00 AM ~ 6:00 PM (Last day closes at 5:00 PM)

Venue
BOOTH NO. M918, M1017
Taipei Nangang Exhibition Center, Hall 1, 4F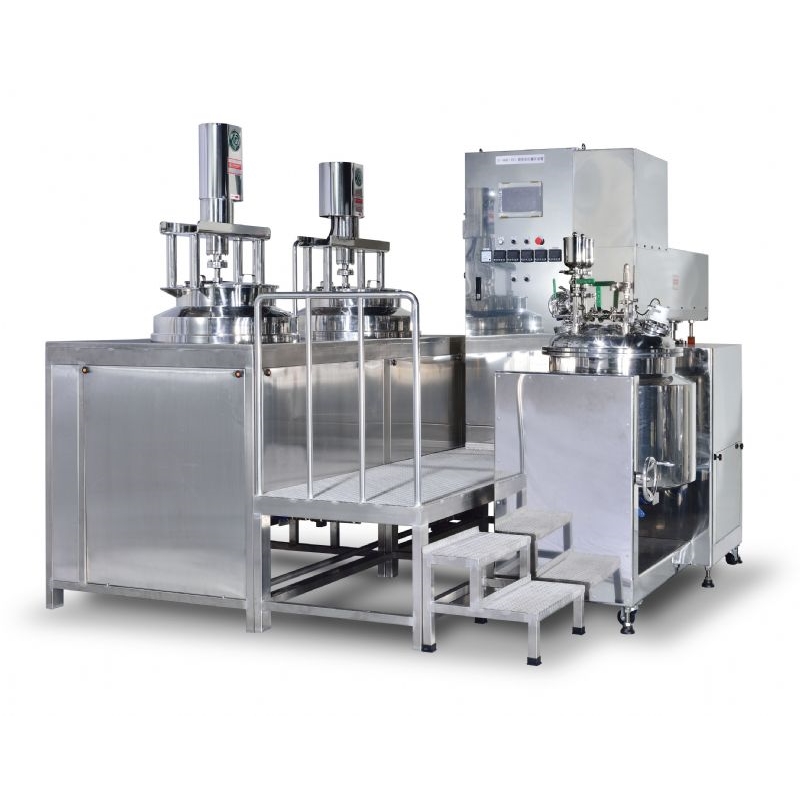 SY-HME
Vacuum Emulsifying Mixer
The Automatic Vacuum Emulsify Mixer (SY-HME) has one blades-mixer for high viscosity material mixing and one high speed homogenizer for emulsification. The blades-mixer has scrappers to scrape the material stuck on the inner surface of mixing bowl to prevent dead corner from happening. The blades-mixer produces downward current to mix and push material going through homogenizer continuously.
The homogenizer head of the Automatic Vacuum Emulsify Mixer consists of high speed rotor and stator. There is pressure difference produced by the high spinning of rotor and stator, inside the homo-head from bottom to top. Shearing, breaking, mixing and emulsifying are happening during the material going through homo-head. The emulsified material is gushing out from the top of the homo-head and coming back to the homo-head again by the down force of blades-mixer when the upward force fading away.
Based on the aforementioned description, The Automatic Vacuum Emulsify Mixer(SY-HME) is widely applicable from high to low viscosity material.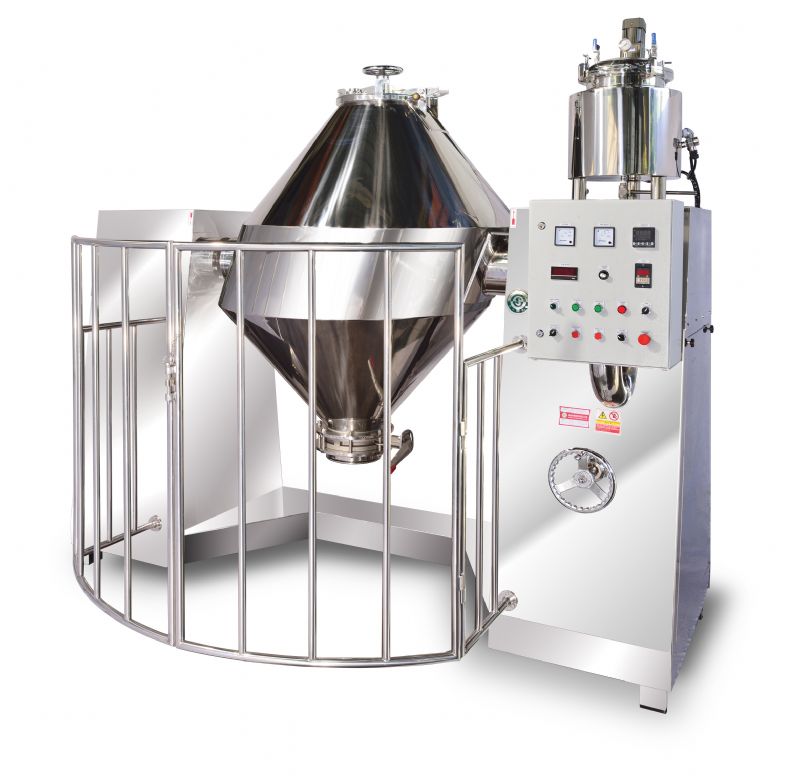 SY-RBT
Triple Cone Mixer
The Triplicity-cone Mixer (SY-RBT) is designing of three-body mixing chambers, one cone at top, one cone at bottom and one cone at center of body. Because three-body mixing chambers create the S-shape tank to increase the mixing quality and production.
The material inside the SY-RBT is moving in three dimensional motions to allow the material mixing evenly without material sticky in the inner wall. And because the chamber is rotated at lower speed, so the material inside the chamber would not be damage and effect by high temperature.
Best Products
we are specializes in Pharmaceutical Machine, Scrape Tank, Magnetic Mixing Vessel and Powder Mixer.