The FOODTECH TAIPEI 2023 & BIO/PHARMATECH TAIWAN 2023
a large-scale exhibition of the latest technology and products in the Mixing / Blending Equipment and Granulating Equipment industries. The event will run from June 14 through June 17 at the Nangang Exhibition Center.
Our most important goal as a company is to achieve complete customer satisfaction by supplying the best quality products. Shang-Yuh Machine Co., Ltd is a professional manufacturer of Mixing / Blending Equipment and Granulating Equipment, specializing in providing Blending Equipment,Mixing & Blending Tank, Screw type Granulating Machine, Hemispherical screw Granulating Machine with superior quality.
ORGANIZERS
Taiwan External Trade Development Council (TAITRA)
Taiwan Food and Pharmaceutical Machinery Manufacturers' Association (TFPMA)
VENUES
Taipei Nangang Exhibition Center, Hall 1 4F
(1, Jingmao 2nd Rd., Nangang District, Taipei, Taiwan)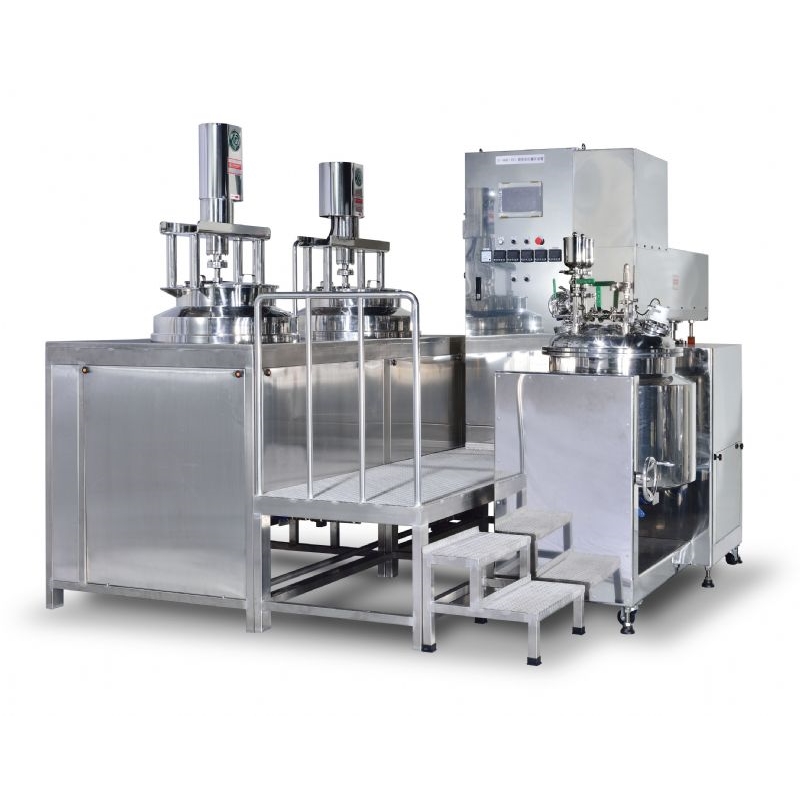 SY-HME
Vacuum Emulsifying Mixer
The Automatic Vacuum Emulsify Mixer (SY-HME) has one blades-mixer for high viscosity material mixing and one high speed homogenizer for emulsification. The blades-mixer has scrappers to scrape the material stuck on the inner surface of mixing bowl to prevent dead corner from happening. The blades-mixer produces downward current to mix and push material going through homogenizer continuously.
The homogenizer head of the Automatic Vacuum Emulsify Mixer consists of high speed rotor and stator. There is pressure difference produced by the high spinning of rotor and stator, inside the homo-head from bottom to top. Shearing, breaking, mixing and emulsifying are happening during the material going through homo-head. The emulsified material is gushing out from the top of the homo-head and coming back to the homo-head again by the down force of blades-mixer when the upward force fading away.
Based on the aforementioned description, The Automatic Vacuum Emulsify Mixer(SY-HME) is widely applicable from high to low viscosity material.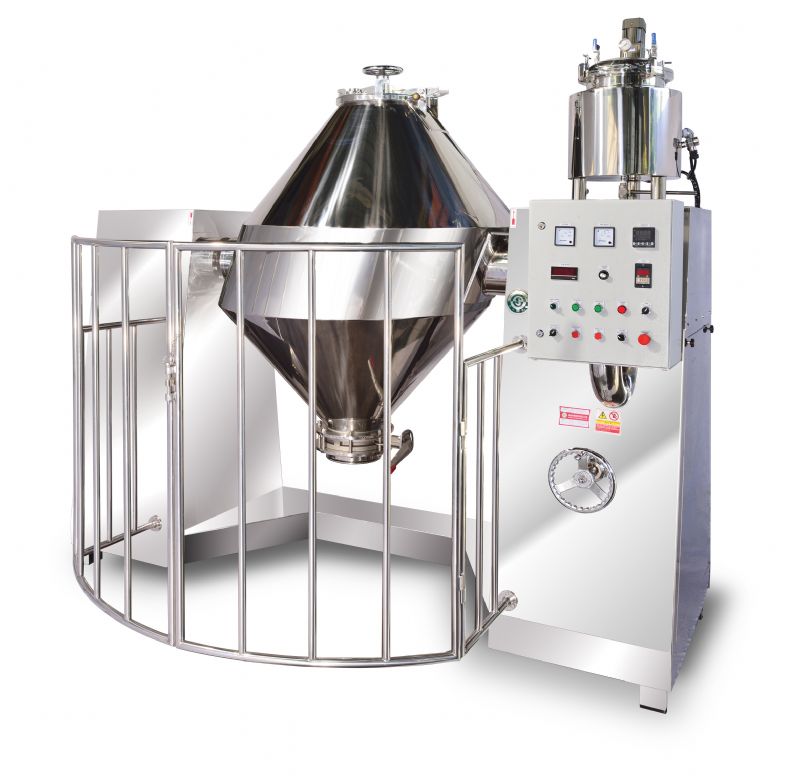 SY-RBT
Triple Cone Mixer
The Triplicity-cone Mixer (SY-RBT) is designing of three-body mixing chambers, one cone at top, one cone at bottom and one cone at center of body. Because three-body mixing chambers create the S-shape tank to increase the mixing quality and production.
The material inside the SY-RBT is moving in three dimensional motions to allow the material mixing evenly without material sticky in the inner wall. And because the chamber is rotated at lower speed, so the material inside the chamber would not be damage and effect by high temperature.
Best Products
we are specializes in Pharmaceutical Machine, Scrape Tank, Magnetic Mixing Vessel and Powder Mixer.