Dryer Equipment
Our company is a custom
Dryer Equipment
manufacture that has successfully delivered all types of
Dryer Equipment
across the world. We take pride in our products as high-quality products with workmanship that matches. All our
Dryer Equipment
is designed and manufactured using high-grade raw material to ensure that these meet international quality norms & standards. We review our offerings regularly to make sure our prices are competitive, if not the lowest available.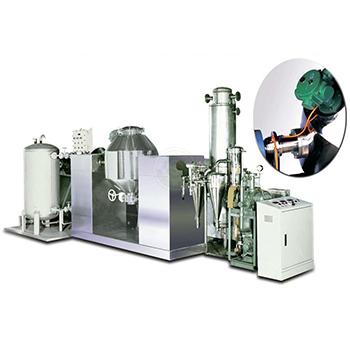 The Rotary Vacuum Drying Mixer (SY-RBR) is designing for the pharmaceutical and food products. During the drying process, the temperature sensitive products would be damage. But with the SY-RBR, the machine is designing with three-layer tank, so the material inside of tank could be maintaining its properties. The SY-RBR is including build-in CIP sprayer and it could be control automatically with PLC system.

In foods and pharmaceuticals industries, raw materials are including intermedium, antibiotics, crystallized or granular materials. With low or high boiling point raw materials which are sensitive to temperature during the drying process that high temperature is not used in operation. Therefore, the method of vacuum pressure-decreasing is used to accelerate in order to evaporation of water and solvents in the tank at low temperature to achieve the drying purpose. Meanwhile, no scorch or stain are effected, and no change of quality or color of products cause at high temperature, so the original properties are maintained. The structure of this mixer is using Double-cone and Triplicity Cone type three-layer designing. The three-layer design has heating water circulation in the middle lager and airtight layer in the outside to keep warm. The wall of tank is 320# optic treatment to meet cGMP requirement. Feeder is placed on upper or lower sides of tank and it is including vacuum feeding, segment revolved feeding and fixes feeding functions. There are also built-in CIP automatic sprayer, high-speed dispersion cutter, pressed spraying fluid, gran?ule collector, bag cleaner, condenser, and vacuum auxiliary pump.

Full-automatic program → PLC → Computer → face board control → system control.
Shang-Yuh Machine Co., Ltd.
ensures all of our
Dryer Equipment
are affordable and priced competitively with other similar products on the market. These products are manufactured using the finest quality raw material in accordance with the set industry standards. Also, we are highly lauded for our timely delivery, customization solutions, and flexible transaction modes. Let us assist with your requirement and question of
Dryer Equipment
.
Related Product Categories